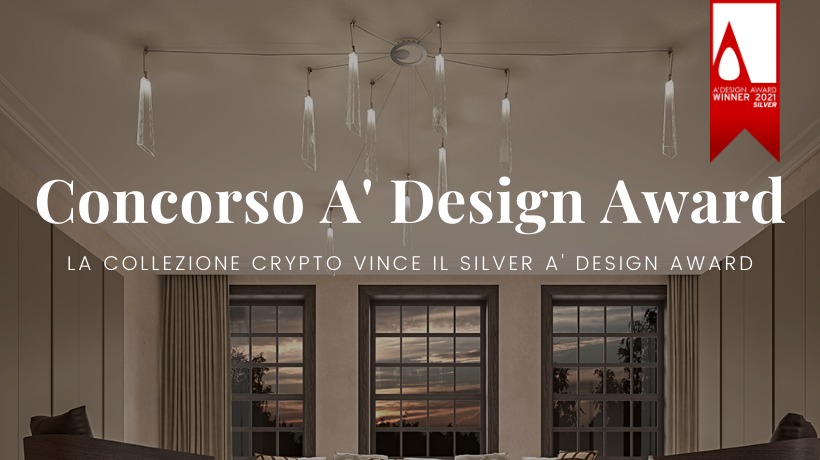 ---
Crypto Collection awarded with the Silver A' Design Award
Our company was honoured to engage in the competition of A' Design Award 2020/2021, enrolling within the category "Lighting Products and Lighting Projects Design". The lighting design collection selected for this special occasion was Crypto, with which we obtained a prestigious prize: the Silver A' Design Award!
A' Design Award and Competition is one of the most famous design competitions in the world that recognizes the value of the best design products, services and projects. Its main aim is to create global awareness and to support high level design culture by promoting it in every aspect.

The vision of this competition is to promote a good design. The mission instead, is that of providing a fair, ethical and competitive platform for companies, designers and innovators of any field, with different levels of experience. However, A' Design Award is not only a prize, yet also an indicator of quality and perfection within the design universe. The candidates of the competition in fact are judged by a renown jury (Grand A' Design Award Jury Panel) formed by design professionals as well as members of press and academics coming from all over the world. To win the A' Design Award means to obtain a certification of excellence for designers and a quality validation for companies.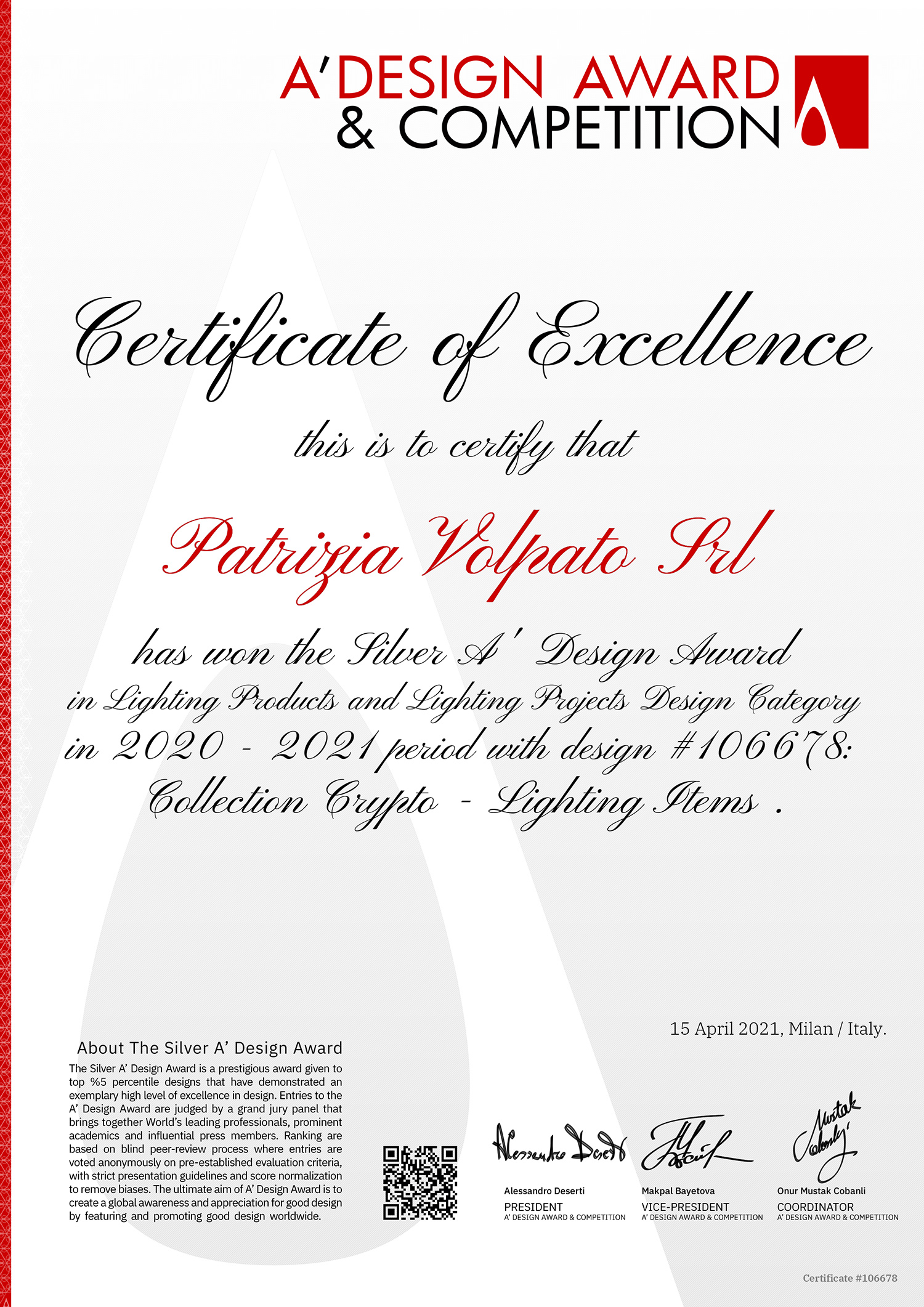 Crypto Collection
Crypto collection was inspired by nature , recalling ice stalactites, thanks to the hand-blown glass elements that imitate such shape, also highlighting the craftmanship of glass masters from Murano island, in Venice.
The particular aspect of Crypto items is to be found in their vibrant hand-blown glass that enbales light to diffuse in many different directions in a very smooth way. Production occurs by means of a totally handcrafted process that each time leads to a different final result. In total there are 21 shapes, coming from 7 different moulds with 3 different cuts, as well as several shades. All shades are purposely more intense in the higher part of the glass element, close to the light source, whilst they are less vivid in the lower part of the element.
Crypto is a modular lighting collection as it can expand vertically as well as horizontally, depending on how the single glass elements that form the entire structure are distributed. The whole collection adapts to any environment such as a private house, an hotel and any wide space.
Thanks to their modularity, Crypto items can vary considerably in terms of size, starting from the diameter of the single element which measures 200mm, going to more complex compositions that can extend horizontally up to 3500mm and above, or vertically up to 9000mm and even more. Light can come from G9 bulbs, halogen or LED type, inserted within the glass elements, or else it can come from GU10 spotlights, once again both halogen or LED, place above the same glass elements.
The research at the basis of this collection focused on design and functionality, throughout the aesthetics and the materials choice. The main aim was to create an innovative texture for the glass, called vibrant: an hybrid version between a totally smooth surface and a hammered one. To reach such goal we proceeded by empirical experimentation, which involved two main tools: glass moulds in different materials and management of the glass blowing process. The result is a glass type capable of breaking light in a soft way, differently from the classical frosted glass.
Finally, customization of the end user is the true added value of the whole collection: with Crypto items the client will be able to independently choose the ultimate composition of the installation, this way obtaining a lighting item that can be defined as unique and inimitable.
Discover CRYPTO collection
---