Patrizia Volpato takes another step forward within the lighting sector by offering a totally innovative application, which, throughout a Bluetooth connection, already included in most of the devices we use every day (SMARTPHONE, IPAD, etc.), will enable users to directly manage the switching on and off as well as many other functions of their chandeliers.
The Bluetooth interface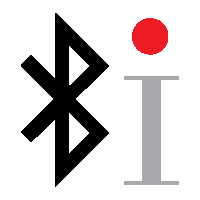 will be available for purchase at any time and most of all it will adapt to every item of the collections signed by Patrizia Volpato. The application will be downloadable directly from App Store or GooglePlay, consequently it will work with both iOS and Andoid devices. Moreover, the interface is also thought for tailored-made products.
CUSTOMIZED GRAPHICS
The application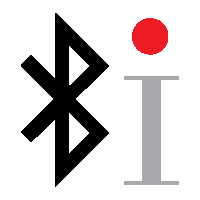 can be used with any collection by Patrizia Volpato and graphics can be customized for each product, so as to make its use more enjoyable but most of all easy and quick. Therefore, the interface will recall the item to which it is connected.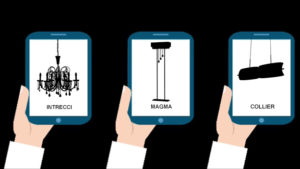 DIMMER FUNCTION
The dimmer function will enable users to adjust the light intensity as they prefer, simply by passing their finger on top of a "colour" bar which relates to all light tones: from BLACK (= switched off light) to WHITE (= switched on light). All this also means that people will be able to create and most of all to save various settings suitable for any occasion… For example, a romantic dinner or a party with friends.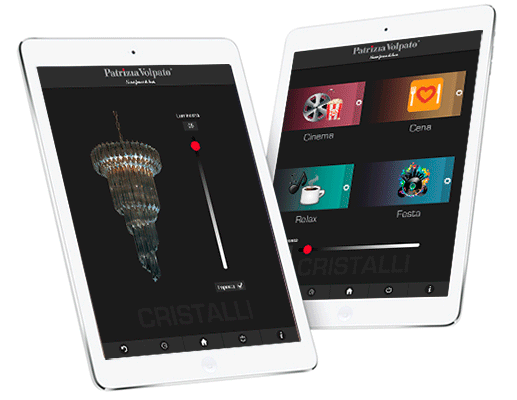 SWITCHING ON THROUGHOUT BLUETOOTH IDENTIFICATION
You arrive at home after some shopping with busy hands and you get inside your house where it is completely dark and maybe you would simply like to avoid bumping into objects? This APP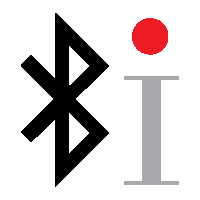 will solve such small but disturbing issues of everyday life; as a matter of fact, always through Bluetooth technology, your smartphone will automatically connect to your lamp on a remote basis and will switch it on without you needing to move not even a finger!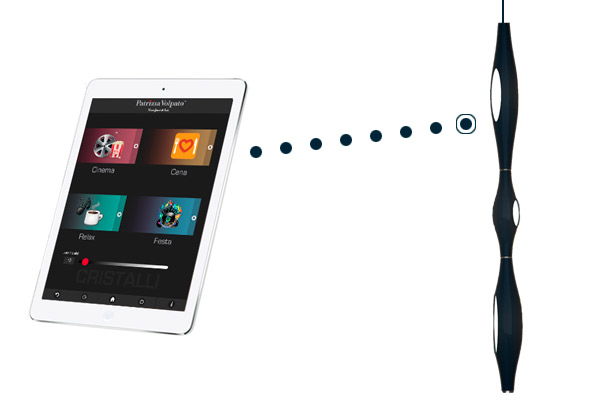 TIMER FUNCTION
The timer function enables users to manage the automatic switching off of the light after a certain period of time which is pre-set by the user. Such operation can be carried out in two ways:
-talking for example of a lamp installed in the entrance, it can be set so that the light switches off after 1 or more minutes (entrance light function);
-or does it happen that you lay down on the sofa and you often fall asleep without realizing, leaving the light on?! Well with this function you won't need to worry about it anymore since you can set it to switch off after a certain period of time.;
-another option is to fix a specific time for a delayed and progressive switching off of the lamp through a dimmer. This function can be useful when we put our children to bed: since they are often afraid of the dark we may want the light to switch off gradually so that they can get used to the darkness and fall asleep in a better way.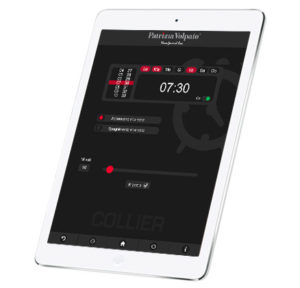 LAMP FUNCTIONING STATISTICS
Keep your lamp under control! With this APP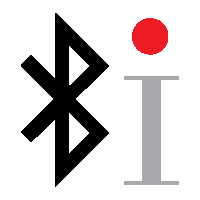 you will be able to check in real time the following details:
– usage period (hours of usage);
– consumptions (total and instantaneous ones);
– efficiency.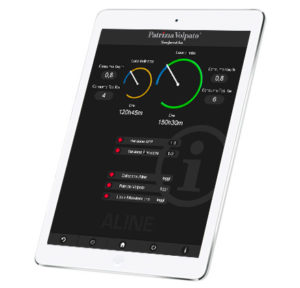 INDIPENDENT CONTROL
If you have more items signed by Patrizia Volpato and you want to apply such interface to them, it is not a problem… As a matter of fact the APP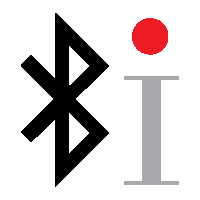 enables users to manage up to 6 different light channels in a complete independent way!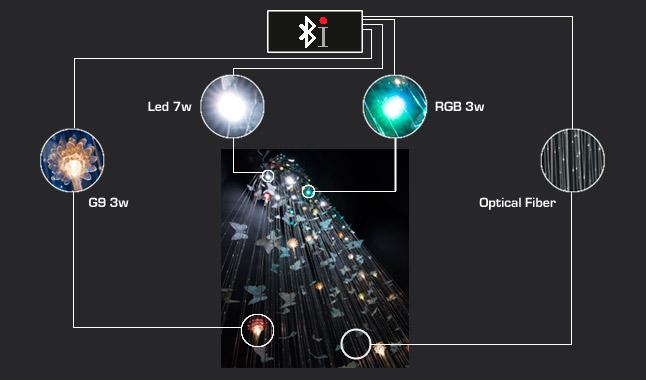 ---
SCREENSHOT AND CONNECTION POSSIBILITIES